Day-Long Saturday Retreats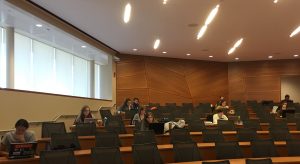 Carving out time to do serious academic writing during the semester can be tough. But finding a place to do it–and a support network of fellow grad students–doesn't have to be!
Modeled on Stanford University's dissertation boot camp and UConn faculty writing retreats, the Writing Center and the Graduate Student Senate sponsor days to write–complete with coffee in the mornings and afternoons, with an optional hour break for lunch. (Feel free to bring your own lunch and snacks.)
The goal of this initiative is to provide a distraction-free environment where participants can write. You should come prepared, bringing your notes, books, and laptops, so that you can spend the time getting words on the page. These sessions are not workshops, and no writing instruction will be provided.
We encourage you to stay all day, but half-day tickets are available, too.
Event Details:
Where: Augustus Storrs Hall, Widmer Wing, Room 16
When: First Saturday of each month during the semester, 10am-5pm
Dates for 2016-17:
Fall 2016:  September 3, October 1, November 5, December 3
Spring 2017:  February 4, March 4, and April 1

Register now for our April 1st retreat.
"Start the Semester Off Write!" (Weekly Two-hour retreats)
Modeled after our own successful weekend writing retreats and boot camps, but on a smaller scale, these weekly, shorter retreats feature a space to write and an excuse to do it. The Writing Center recognizes that writing in big bursts of energy can be helpful–but that smaller, weekly commitments can develop good writing habits that carry you through the semester. We challenge you to commit to four weeks of early morning Monday writing to start the semester off right.
Simply writing in the presence of others can bring a surprising sense of solidarity and productivity. Arrive with the project you are working on now and your laptop, along with any notes or books you need. There will not be any tutoring available or any lectures.
Food and beverages are not provided for these shorter retreats. Please bring your own coffee and snacks.
Event Details:
Where: Homer Babbidge Library, Level 2 South, Collaborative/Library Learning Center (Class of 1950)
When: Mondays, 9 – 11 am, for the first 4 Mondays of the semester.
Dates for the retreats in 2017-18 will be posted over the summer.