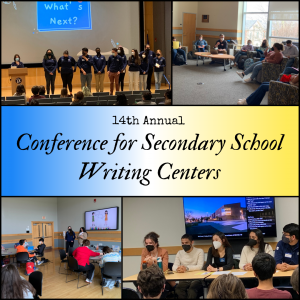 The UConn Conference for Secondary School Writing Centers made its big return this past March of 2022. It served as a wonderful reminder of how important collaborative, peer-to-peer support centers are for school community and success.
As part of this return, we diligently took notes on ways that we can improve the conference. We were so inspired by the brilliance our secondary schools brought to the conference that we decided to incorporate more of YOU into the conference. 
For this reason, I am pleased to announce that for the first time ever we are calling for proposals from writing center staff and tutors to present at our conference.
Here's how it will work: 
Our conference will take place in October of 2022 from 8:30am-12:30pm – Exact date: Monday, October 17th
The theme for this conference is: Write Now!
 After such hardships these last few years, we would like to bring people together to learn about what we can and are doing right now to build a better future and culture of writing; where everyone can recognize a writer within themselves.
We invite proposals of 250-300 words on training methods, writing center philosophies, and tutor experiences that all fall under this theme. We invite presentations of all kinds, but will give preference to proposals that address the following: 
In what ways can we make our center more accessible to all writers' abilities and language proficiencies? 

How can we incorporate equity into our training and tutoring practices? 

What have you learned from the time you spent tutoring/teaching during the pandemic and how is that learning being applied to your center now?

How can our training practices adapt to the new modalities that students are being asked to create in assignments/projects?

How can we learn to navigate in-person/online/hybrid spaces to improve our Writing Centers? 

How can we market writing centers in a way that draws in more writers and teachers? 
We offer you multiple types of presentations and hope to see a variety of each. Below, we've outlined examples and expectations for each type of presentation. You are not limited by the number of proposals you can submit. 
Panels/Workshops

– this form is in-person and synchronous, all presenters will be asked to be in-person for the conference. This is ideal for demonstrating strategies/methods or presenting new ideas to a live audience. Since your audience will be fellow secondary school teachers and students, we encourage sessions to be

interactive, participatory, and/or engaging.

 Please plan to have a

maximum of 3 speakers

(at least one of whom is a teacher), though you may bring more than this amount to the conference as attendees. 

Video Showcase

 – each year we like to spotlight secondary school writing centers as models and idea generators for other interested centers. For this type of presentation, we would be looking for a

3-5 minute video

that showcases how your center functions, what makes it stand out, what aspects you are most proud of? This is not an ordinary promotional video, but rather an informative, instructional video that highlights your innovations and efforts as a center. 

Artifacts

– For those of you who would like your work shared asynchronously, we plan to give online access to conference artifacts to all attendees. Any writing center teaching/learning materials that you found to be helpful are welcome to be distributed to all schools without needing to present. An example might be if you use a specific analogy for your feedback i.e. a "compliment sandwich", you could create an infographic to explain how it works. These artifacts can take any form so long as it is easily, digitally accessible (videos, podcasts, websites, flyers, infographics, posters, etc). 
Successful proposals will be descriptive, detailing the central concept as well as how you envision the presentation will go. Everyone should plan with accessibility in mind. As mentioned, priority will be given to proposals that best adhere to our theme and the guiding questions above or otherwise bring something new and exciting that we did not think of. 
All proposals are due by August 20th – approvals will be sent out when we return in late August/early September of the 2022-23 academic year. 
If your proposal is approved by the UConn Outreach Coordinator, you will be asked to prepare your presentation and send all of your materials ahead of time. Further information on presenter registration and deadlines to come.
14th Conference for Secondary School Writing Centers: Propose a Session
"*" indicates required fields