Tutors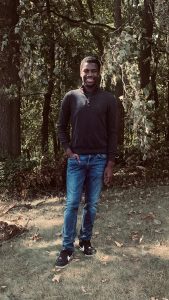 Conte
Senior
English
Conte is from Hamden, CT. As an English major, he is extremely passionate about writing, and he hopes to one day enter the field of journalism. One of the biggest reasons Conte wanted to become a tutor was to help other students with their writing. When he is not writing for work or academic purposes, he writes simply to express his thoughts. Other things that Conte likes to do are to watch sports, play video games, and get at least 15 minutes of sunlight each day.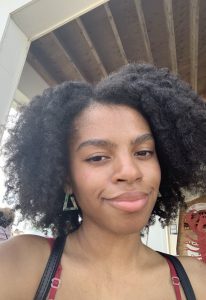 Danicia
Junior
English
Danicia is a sophomore in the Honors Program from Bloomfield, CT. She aspires to become an English professor in the future. In addition to being an English major, she is pursuing a minor in Urban and Community Studies to learn how to be of service to her community in a valuable way. When she is not reading or studying, you'll find her in a movie theater, a thrift shop, or an art museum. She's also a big Mac Miller fan.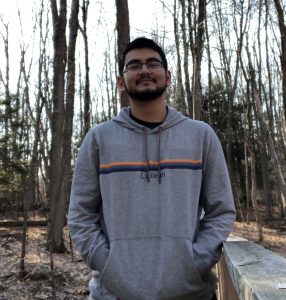 Emile
Sophomore
Communication
Emile is a sophomore from Windsor, Connecticut, currently majoring in Communication, although he is still exploring other majors and keeping an open mind. He is passionate about writing and is particularly interested in linguistics. Emile would one day like to write a book or direct a movie, as he enjoys working creatively. He enjoys listening to music, watching films, playing video games, spending time with friends, and eating lots of food. He likes to help out people but also enjoys relaxing and spending time with his dog. Emile is excited to join the Writing Center's staff this semester.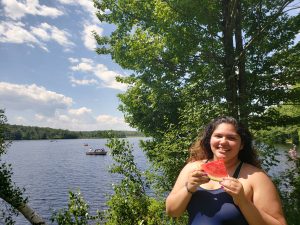 Erica
Senior
English
Erica is a second-year tutor at the Writing Center, and she couldn't be happier about it. Back from a summer at home in the Bronx, NY, she is excited for all the new experiences she gets to have working with her coworkers and all the different kinds of writers that UConn has to offer. As a stereotypical English major, she loves having her nose in a book or a pen in her hand to write whenever the inspiration hits, but she also loves dancing (check her out at one of UConn B.A.I.L.E's performances!), exploring new places at night, and trying to make anyone around her laugh.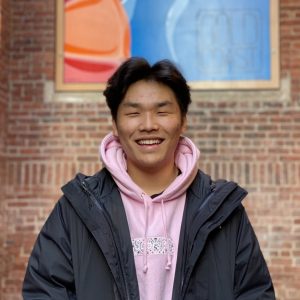 Erik
Junior
Physiology and Neurobiology/Economics
Hailing from the cow town that is Storrs, CT, Erik is fascinated by the intersectionality of medicine and business in a modern global economy, with hopes that these interests will culminate in his pursuit of an MD/MBA. He is an avid photographer who loves to supplement his writing with photos to tell stories. On campus, he works as a research assistant in the Goldhamer Lab, serves as the Community Outreach Chair for UConn KDSAP, and is a WOW Leader. In his free time, you can catch Erik listening to Brockhampton, collecting sneakers, airballing 3's at the Rec Center, or watching soccer!
James 
Senior
Molecular and Cellular Biology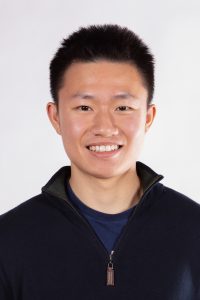 James carries many academic interests with an overarching goal of becoming a physician-scientist specializing in cancer biology. Though a biologist at heart, he is fascinated by the interface between social psychology and neuroscience, the intricacies of language development, and the beautiful melodies found in different genres of music. These passions compose his weekly schedule of conducting experiments in the LoTurco Lab, playing violin in the UConn Symphony Orchestra, and serving as the Program Director for UConn's America Reads program. In addition to his academic pursuits, he reserves an adoration for food, outdoor hiking and rock climbing adventures, and strategizing with others in card games.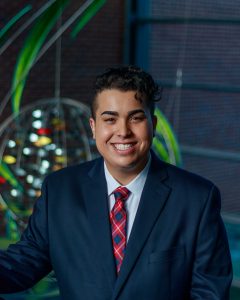 Jase
Senior
Political Science & Urban and Community Studies
Jase is Puerto Rican from Bridgeport, CT, who currently pursuing a degree in Political Science and Honors Urban & Community Studies, with  minors in Public Policy and Latino Studies. He plans on pursuing a master's degree in public administration next year at UConn. Post graduation Jase hopes to become a politician back in his hometown, Bridgeport, to uplift the community to its former glory. On campus, Jase is also heavily involved within the Puerto Rican/ Latin American Cultural Center, where he works as a representative for the center and also as a teaching assistant. When not adding to his stress with extracurriculars and school, he loves driving his car to new places, where he frequently goes on hikes and practices meditation.
Jess
Senior
English
Once her undergraduate career concludes, Jess hopes to enroll in a M.A./Ph.D. program for English with specializations in Disability Studies; Rhetoric, Composition, and Literacy; Human Rights; and Medical Humanities, while pursuing a career as an English professor. Aside from being a writing tutor, she works as a copy editor for The Daily Campus, a mentor for PATH, and is also a member of the Honors Program. Her research interests focus on how Disability Studies gives us a way to continually, and alternatively, (re)theorize how minds and bodies make meaning in the world by analyzing how constructed differences are classified by, and within, systems of power and literature throughout time. She is also pursuing concentrations in  Literature, Antiracism, and Social Justice; Literary Histories and Legacies; Creative Writing; Writing and Composition Studies. During her free time, she enjoys pastel drawing, hiking, photography, and writing. Jess looks forward to collaborating with her fellow students and encouraging them to flourish as writers.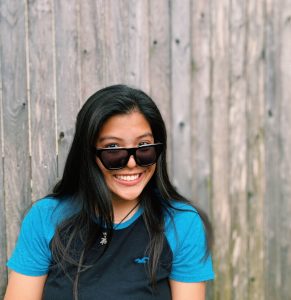 Jessie
Junior
Molecular and Cell Biology
Originally from Lexington, Massachusetts, Jessie is currently studying molecular and cell biology and she hopes will help her pursue a career in the healthcare industry. To balance her academics and still be involved on campus, she takes on the role of community outreach chair for the Molecular and Cell Biology club and the UConn's chapter of Partners In Health Engage. Jessie is also the diversity chair for her sorority and hopes to make a difference in breaking societal stereotypes! I love to spend my free time baking sweet treats, exploring the city, and playing with my dog!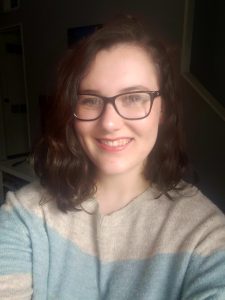 Julia
Senior
Applied and Resource Economics/English
Julia is an economics student in the College of Agriculture and Natural Resources with an academic concentration in International Development; she is also working towards a dual degree in English and loves all things literature! After graduating she hopes to find a job that gives her time to start writing a novel. She is also the president of the Applied and Resource Economics club, which fosters the ARE student community and runs a magazine highlighting student and faculty publications. When not working or studying, Julia is usually plotting out all the places she wants to travel, browsing Youtube, and hanging out in cute coffee shops.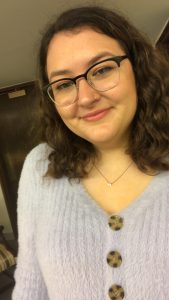 Julianna
Senior
English/Secondary Education English
Julianna is a junior at the Storrs campus studying English and English Secondary Education in the Neag School of Education i/BM program. She has spent her whole life in Bristol, CT (yes, she has worked at Lake Compounce) with her mom, dad, and older brother Nick. She is a queer artist, president of Horse Lincoln Improv, a stand-up comedian, and is scarily passionate about theatre. She is committed to social justice, LGBTQIA+ rights,  creative teaching/learning, representation, mental health advocacy, and BLM.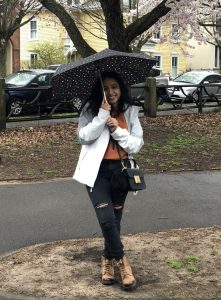 Karla
Junior
Nursing 
Karla, from New Haven, Connecticut, aspires to become a nurse to advocate for patients in marginalized and under-represented communities. She is interested in learning about health disparities and inequities to better understand how to attend to future patients. Her hope is to become a nurse practitioner later in her career.  Aside from her passion to be part of the healthcare system, Karla takes care of her many plants and looks out for any plant sales on campus. In her little to no free time, she enjoys building puzzles, going on walks with her dog, and spending time with friends.
Lawrence
Senior
Mechanical Engineering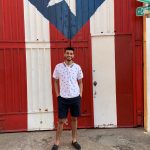 Along with working at the writing center, Lawrence is one of the Latinx Student Leadership Council Coordinators at the Puerto Rican Latin American Cultural Center, where he oversees 20+ student organizations. His other campus involvement are UConn BAILE, the Dominican Student Association, and METAS. In his leisure time, Lawrence likes to go on walks and eat out with friends. Fun fact: Lawrence has 7 other siblings!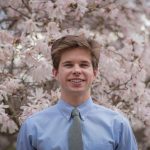 Liam
Senior
Mechanical Engineering/English
Hi!  Engineering and English may seem like a weird combo (partly because it is!) but what I enjoy in both disciplines is their value on the process of crafting, whether that be with words or machines. So usually you'll find me delving into either the mechanics of a flight control system or into a good book or poem, invariably with a cup of coffee in hand.  If you ever see me on campus, I'm probably either running or listening to music. Feel free to give some recommendations!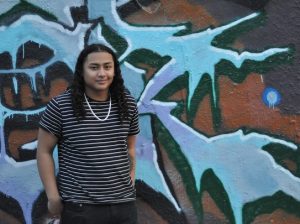 Lorenzo
Senior
Sociology
I am from East Hartford, CT, and from a young age, I always enjoyed writing and being able to help others. After graduation, I want to be in a position where I can make the future a better place for others in some sort of way. In my free time, some of my favorite things to do include exercising, playing video games, listening to music, and watching sports.
Rosie
Senior
English/Neuroscience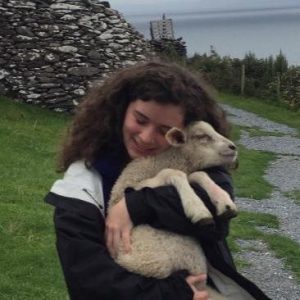 A Fairfield native, Rosie is passionate about all things writing and is excited to join the Writing Center for her second year as a tutor! In addition to being an English major and neuroscience minor, she is on the pre-med track and aspires to become a physician. Rosie is also involved in Community Outreach, RESULTS, and the CLAS Women's Leadership Collective. When she's not in the library, you can find her listening to music, hanging out with friends, and spending all of her money on iced coffee.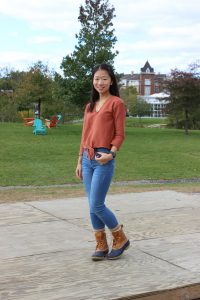 Xiao Xin
Junior
History
Xiao Xin is from West Hartford, CT. Her interest in history stems from a young age where she spent the majority of her time watching documentaries and visiting museums (she still does). She hopes to one day apply her knowledge in history by going to law school to study international law or immigration law. As for the present, Xiao Xin is excited to work at the Writing Center and is looking forward to the new semester as an Honors student. Usually if she is not at the library studying, then she is most likely at a cafe enjoying her coffee or tea. During her free time, Xiao Xin likes to read, watch Netflix, and play tennis.
Receptionists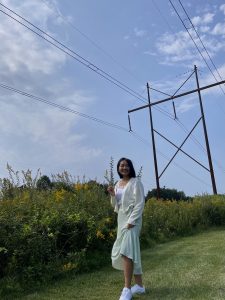 Chelcy
Sophomore
ACES
I'm from Hartford, Connecticut and currently in the ACES program, but hoping to be a Nursing major, with a minor in Humanities.   My goal for the future is to be able to help  people who a affected by disaster and conflict. In my free time I like to watch movies, go take a walk in the afternoon to catch the sunset and I love drinking boba tea.
Human Development and Family Sciences; Individualized Major: Global Health
María is a senior in the Honors Program from New Rochelle, NY. She hopes to pursue a career in public health as she is passionate about addressing the healthcare disparities in underrepresented communities. Her main goal is to improve health both domestically and globally. During María's free time, she loves to travel, spend time with her chocolate lab, and explore nature by going on trails.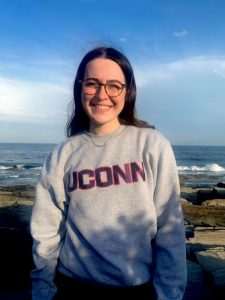 Noelle
Sophomore
Pathobiology/Physiology and Neurobiology minor
I'm from North Greenbush, NY, a STEM Scholar and member of the Sun Lab in PNB. I 'm on the the UConn Sailing Team and in my free time I like baking pies and  playing board games and card games.  I'm also a certified EMT!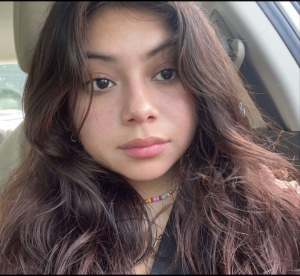 Ruth
Receptionist/Social Media Chair
Sophomore
Psychology
Hi! My name is Ruth Salazar, and I am a sophomore majoring in Psychological Sciences. I am from Bridgeport, CT but originally a New Yorker. I love reading in my free time, taking hikes, and hanging out with my dogs. I hope to become a children's therapist in my hometown in New York.
Graduate Administrative Staff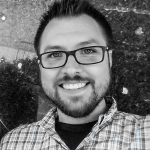 Kyle
Assistant Director
Ph D. Candidate, English
Kyle is a PhD student in the English department, specializing in rhetoric and composition. He's particularly interested in the rhetoric of science, ecocriticism (the interdisciplinary study of literature and its intersections with environment), urban ecology, and science writing. His other interests include writing center studies, literacy studies, writing across the curriculum (WAC), translingualism, and technical writing. Kyle also works as a writing instructor, teaching First-Year Writing courses here at UConn; prior to that he worked as a technical writer and illustrator. He doesn't do anything in his free time, mostly because graduate students don't have free time.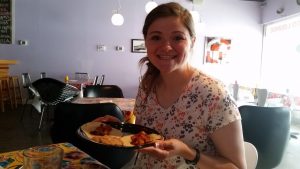 Sophie
Assistant Director
Ph.D Candidate, English
Sophie studies the intersection of critical thinking and creativity. She loves to combine creative writing with academic work. This interest has led her to gravitate toward narrative methodologies in her research. Beyond the academic sphere, Sophie is interested in tacos, painting, and farmers markets. She is also obsessed with blueberries.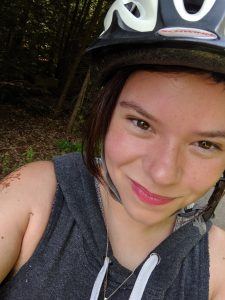 Sammy
Graduate Assistant
Masters Student, Education

Sammy is in her fifth year of the Neag IB/M program earning her certification and MA in English Secondary Education. Over the last three years, Sammy has devoted her time to understanding the world around her by traveling and serving communities through Community Outreach. She has a particular interest in learning ways to teach that most align with how our brains process the information and the environmental input. In particular, how those brain processes can work to both strengthen and weaken our empathy toward others. This year she will be working closely with E.O. Smith students on events and collaborations with the community to practice and spread empathy through open dialogues. Sammy is extremely excited to be part of such a wonderful service that is the Writing Center.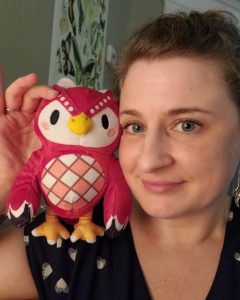 Psyche
Coordinator for Graduate Writing Support
Ph.D. Candidate, English

Psyche is in her third year of the English PhD program. Her research is in Writing Studies and Disability Studies, and she is very enthusiastic about supporting anxious writers (because she's an anxious writer!).  She loves working with grad student writers and learning all about their fascinating research projects. She loves cats, the woods, chocolate, and coffee. 
Graduate Tutors
Administrative Staff
Tom Deans
Director, Writing Center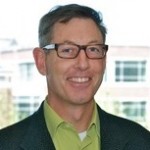 I'm a professor in the English Department, where I teach undergraduate courses in first-year writing, prose style, literature, and writing for community organizations, as well as graduate seminars in composition theory and writing across the curriculum. I've written books on the relationship of college writing to community engagement , plus a variety of articles and book chapters on composition, service-learning, writing in the disciplines, writing centers, writing assessment, literacy, sacred texts, and Shakespeare. I currently co-edit the Oxford Brief Guides to Writing in the Disciplines.
Kathleen Tonry
Associate Director, Writing Center
I joined UConn's faculty and the Writing Center in the autumn of 2005 after earning my doctorate at the University of Notre Dame. My dissertation, on early print and late-late medieval literature, continues to inform my teaching and research in the English Department. My passion for very old books is only half my story, however.   On the way to my graduate degree I taught English at the University of Central Bohemia, worked in Ireland herding goats, and on the editorial staff at HarperCollins in New York. When I did arrive at graduate school to study medieval literature, I also found myself drawn to the work going on in writing programs, and particularly in Writing Centers. In the room that housed the Writing Center at Notre Dame I discovered a rush of interesting conversations all going on at once – from philosophy to history to physics – and all somehow related to writing. I realized I had found a kind of secret that was trying not to be a secret: Writing Centers are these wonderfully intellectual, interdisciplinary spaces, sometimes hushed, sometimes raucous, always engaging, and I was hooked. I spent the last year of my degree finishing my dissertation and working on a Writing Center project that fostered a high-school/university partnership in South Bend. I feel fortunate to be a "free-range" medievalist, with opportunities to think about the role of writing across the full breadth of the curriculum. I primarily focus on our undergraduate staff and tutoring services – precisely the place where I first heard the buzz of ideas that turned out to be about students and writing. I hope you'll come in with your own questions, ideas and writing: we'll talk.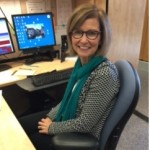 Margie Ouimette
Program Assistant
Margie began working at UConn in 2007, after working at Eastern Connecticut State University and the University of Southern California. She enjoys the busy pace of the Writing Center and the broad range of interests and backgrounds each tutor brings to the writing center. It's really exciting listening to tutors and writers discuss their writing and she hopes you will make an appointment and come see what we do!