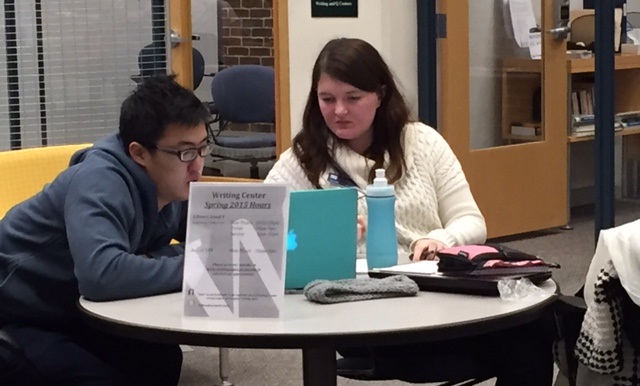 The Basics
All sessions are 45 minutes and begin on the hour.   Undergraduates are welcome to drop in without making an appointment, however we get busy and a tutorial may not always be available. To reserve a session in advance, please use our online scheduler, which will allow you to choose the most convenient time, as well as select a tutor who has particular expertise in your field. Writers who are more than ten minutes late to their scheduled session will lose their appointment if there are other writers waiting to work with a tutor.  Please make every attempt to be on time.  Graduate students seeking tutorials must first meet with our Graduate Coordinator.  For more information on this policy, please click here .
What to Expect
When you arrive for an in person or online appointment, your tutor will begin by asking you to talk a little about what you would like to address in your writing. After identifying specific areas, you might be asked to read aloud from your paper while your tutor follows. This allows your tutor to understand what your paper is about, and gives you a chance to raise further questions. Your session will largely be shaped by your own questions and interests, so come prepared to be an active participant! At the end of your 45 minutes your tutor will write a description of the session (a 'tutor note') to email you. These brief descriptions don't evaluate you or your writing in any way and you might find them a helpful reminder of the session.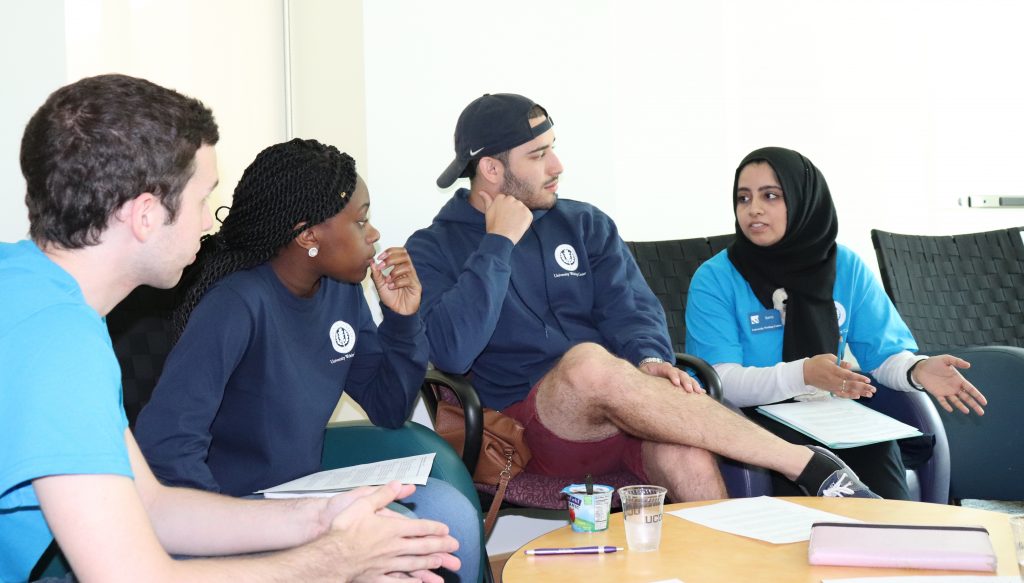 What we do and can't do
In each session, we aim to create a learning environment that offers one-on-one attention, a good conversation around your ideas and your writing, and thoughtful answers to specific questions. We are very proud of the academic breadth our Writing Tutors bring to the Center:  this year we have 30 tutors from a range of majors.  Writers are invited to bring in any writing project, at any stage. Your course papers, lab reports, graduate school applications, and cover letters are all welcome, from budding idea to final draft.
We welcome writers who are working with English as a second language (ESL). Several of our tutors have experience with ESL-specific issues, and we can support writers in planning a series of writing tutorials. Our goal in working with ESL writers remains the same as our goal for native speakers of English – that is, to support and guide an ongoing learning process.
We are not an editing or proofreading service – our goal is to offer guidance as you learn to become a better writer and editor. Toward that end we can help you identify weak areas and guide you in working on both broad and specific elements of effective writing.
We don't generate ideas or thesis statements for you, nor can we stand in for classroom instruction or faculty office hours. We are eager to work with you to explore ideas, test arguments, and refine your prose, but your writing always remains your responsibility.
FAQ's
Will my instructor know I came?
You decide.  You can ask for a tutor note to be sent to your instructor. Many faculty find these notes a good indicator of the extra work you're putting into your writing, and you might find them a helpful reminder of the session.
Can my instructor require me to visit?
We strongly discourage required sessions. The only exception we make is with FYE courses, where we work closely with instructors to integrate writing into that program's specific goals.
Can I work on a dissertation, thesis or other large project?
All projects are welcome. Longer papers might need multiple sessions; graduate students seeking help at the dissertation stage should be aware that we will not proofread or edit dissertations and consult our graduate student policy.
How many times can I visit?
No undergraduate writer make may more than 2 appointments per week, and only one per day.
For more policies, see our policy page.